The LAA Able Gallery is a boutique gallery opened in September 2012 and is available for use by LAA members and the broader arts community.
The air conditioned gallery provides 43m of hanging system, plinths for sculpture and pottery, secure glass cabinets for display and track and spot lighting. There is also an outdoor entertaining area for opening nights. 
LAA supports approved exhibitions with free advertising in the LAA monthly communique, a large email database and other publicity activities. Hiring the gallery is a very economical proposition.
Please contact us to discuss arrangements for use of the Gallery, and current gallery availability
Gallery enquiries: 0419 001 796
Interested in hiring the gallery space?
Fill out our form and we will get in contact.
Fill in out application form. You can access this from the black button above
Application Fee is to be paid with this application form one month in advance.
LAA Bank Details for EFT BSB 124 -034 Account 10135859 Ref: GF (Surname)
If delivering money direct to LAA please phone Di on 0400 165 767 or the LAA Office on 3200 8350. This is to ensure someone is available to take your payment and application.
If you would like a copy of our terms for your record you can download a copy from the button below.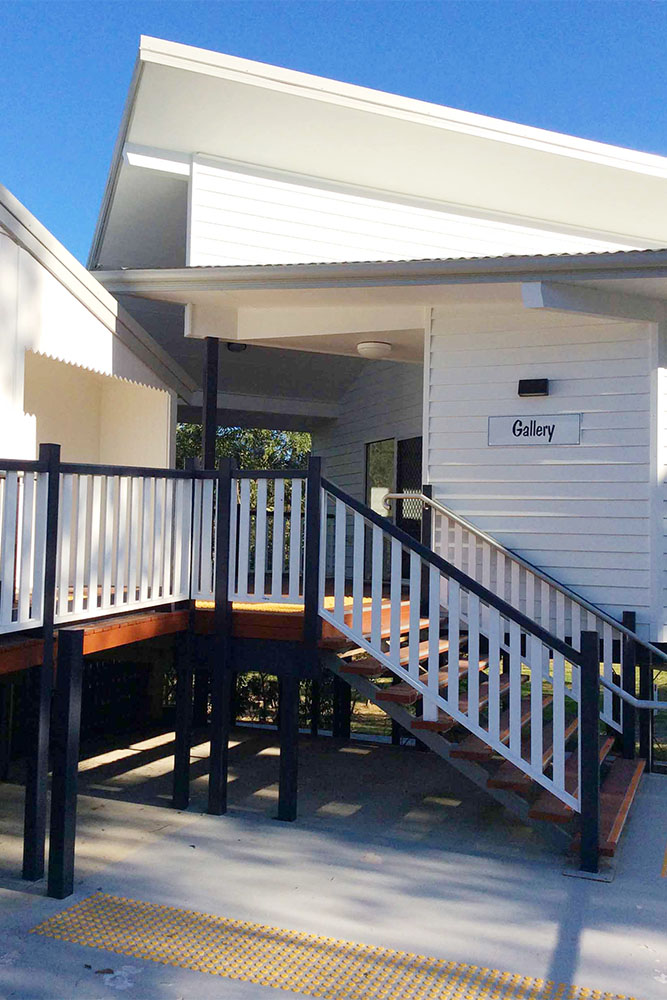 About the Able Gallery Exhibition Space
The Able Gallery is a new, purpose-built, air-conditioned gallery adjacent to the Logan Artists Association (LAA) Art & Pottery Studios at 27 Coral Street Loganlea, a pleasant 5-minute walk from Loganlea train station and midway between Brisbane City & the Gold Coast.
The gallery offers 43 metres of hanging track, approximately 84 m2 of internal space and 35 m2 of external space; including an attractive deck overlooking natural bushland. The gallery offers equipment for hanging & 13 plinths at 3 heights for display purposes. We also provide 2 glass cabinets for smaller or valuable items.
The gallery has ample off-street parking at the rear and front of the gallery
We have disability parking plus access via a ramp to the gallery and amenities that are close by.
The gallery has a small kitchenette with a bar fridge, wine glasses, platters and trays.
Gallery hours can be negotiated with the Gallery Coordinators. We also have a bell system in place for your convenience.
Exhibition advertising:  LAA will offer to place advertising for your upcoming and current exhibitions on the LAA studios notice boards, on their Face Book page and on their Website. This service is available at no cost to the applicant but is dependent on suitable information and images being provided for publication in a suitable time frame.